Physical Education
The Circus School is committed to enhancing and enriching the PE curriculum with our circus sport school incursions in Melbourne and beyond.
From juggling and mini trampolining through to stilts and human balances, the emphasis is on inclusivity, engagement and of course, fun! With such a wide variety of equipment and activities in our repertoire, we have the tools to build valuable programs for all age groups and abilities.
Led by our highly experienced team that have been working with Melbourne schools for over a decade, programs are linked to the Australian Curriculum Health & Physical Education elaborations and "I Can" statements to enable easy pupil assessment.
Request Quote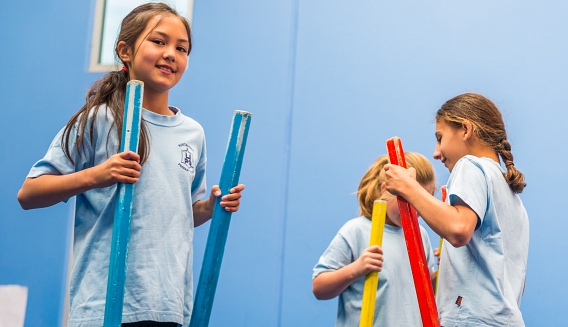 "Thanks for the whole Little Devils experience. The trainer was FANTASTIC and had great rapport with the students. They were very skilled in their teaching throughout, extremely well organised, and we would love to do it all again next year!"
Sandringham Primary School
"This week at our Transition program for the new prep students who are to join our school next year, there was a little fellow who was reluctant and reticent. One of our year 5 students- Juan pulled out three of his own juggling balls and proceeded to entertain him and bring a smile to that little ones face! So the skills will live on – not just for a one off school performance."
Gayle Cope, Principal, Wattle Park Primary School
"It was an absolutely wonderful experience for the students, parents and staff. One we will never forget.It was so rewarding to watch the students' efforts along with their broad smiles. They were so, so proud of their achievements and accomplishments!. The performance was well timed, choreographed, glittering costumes and disciplined. The students knew what to do and it was wonderful to see the continued support offered by the trainers throughout the show. The night was a huge success, and I knew that it would be well received and appreciated by everyone once they saw the finished product."
Gayle Cope, Principal, Wattle Park Primary School
"As the Performing Arts Co-ordinator, I was extremely happy with the way Little Devils worked in with the school. Our communication was clear and the concert ran smoothly with fantastic parent feedback. Our best Concert Ever. Thank You!"
Kingswood Primary School
"The parents were astounded and blown away! They were particularly impressed that all the children were "stars" and they all had the opportunity to shine."
Julie Wilkinson, Principal, Solway Primary School