School Concerts
For any school, the concert is one of the highlights of the year. It's a great opportunity for students to build lasting skills and new interests, but the pressure is most definitely on. So, when you want it bigger, better and more memorable than anything you've done before, The Circus Crew is here to deliver precisely that.
Request Quote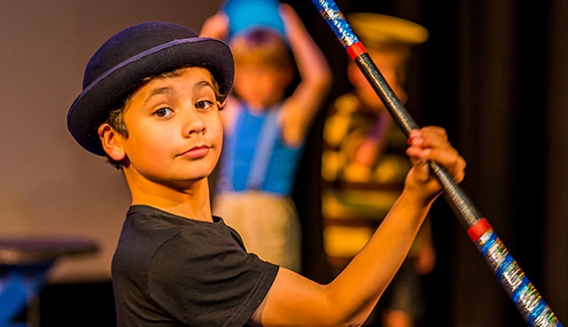 School Concerts
We understand the challenges: in-house production capabilities are limited, but you're still expected to come up with something that creates a buzz - for students, parents and school management alike!
An outstanding performance takes time, energy, lots of patience and more than a little know-how. This is where The Circus Crew comes in. We don't just tell you how to deliver a mind-blowing performance… we take care of it all. Everything is provided - the music, the costumes, the equipment, and the rehearsals all within your school. You supply the children and we do the rest.
The amazing parent feedback we receive from these events goes to show why this is our most popular service for schools. The flipside is that availability gets snapped up fast! Get in touch ASAP and let's see what we can do.
"Kids enjoyed every minute of it!!! The two trainers we had we exceptional!!! My daughter has already said "mum my 8th birthday is there". 3 parents said the same to me, their children loved it so much they want their birthday parties there as well!!"
pleased parent
"Everything was so well organised & so age appropriate - the kids had so much fun, the facilities were clean, well kept & warm (important on a cold rainy day outside). Especially telling as we were the last party of the day, and the place looked like we could have been the first. All in all a fab party & I will be spreading the word... Thanks :)"
happy parent
"The trainers were very high energy and very personal, and on request they'd designed a challenging program which the kids really loved. They were so proud of themselves on the trapeze!"
pleased parent
"Everything was smooth and easy! My son had such an awesome time at his party. As I was putting him to bed last night he said he would like to do everything two more times he loved it so much!"
happy parent
"Thank you for providing such a wonderful experience for our daughter and her friends. The hostess was so very welcoming and the children found her sense of humor much fun. The venue was very clean, well designed and safe. Having the experiences tailored to our guests was appreciated as was the relaxed atmosphere and booking process. Highly recommended!"
happy Mum
"We enjoyed the intimate space of the venue and the uniqueness of the tasks the facilitators provided. Value for money and exactly the experiane what I wanted for my son's birthday. Keep up with the good offerings!"
happy dad
"We couldn't be happier that we celebrated our twins 5 birthday at Little Devil Circus. The gym was superb and exclusive to our use which means the mums can have a nice relaxing chat as the trainer brought the kids for their circuit. The trainer was great and extra effort was made to make the twins feel special. Service was great from everyone, we are now too spoilt for indoor play centre parties!"
happy parent
"A big THANKYOU to Sean who was so friendly, pleasant and accommodating. We were very happy with the trainers who were very engaging with the children and kept them busy and happy. This is our second circus birthday party and we will be back."
happy parent