Circus Skills
You're never too old to learn new tricks. Delivered in your workplace, our hands-on circus skills sessions are fantastic for getting body active, mind focused - and for team building with a difference. Areas covered include juggling, diabolo, hula hoops, devil sticks and much more.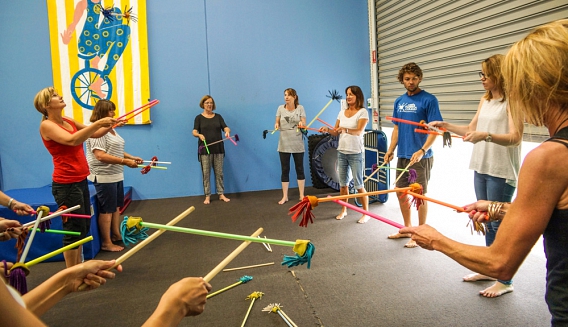 strictly circus
The perfect circus taster session, this 1.5 hour "round robin" circus workshop introduces a whole variety box of tricks and skills.
circus stars
Team building activities the way they are meant to be: fun, inclusive and unforgettable! A 2-hour hands-on workshop, finishing with a mini-show, giving your people the chance to shine.
circus-off!
Where's the hidden talent hiding in your organisation? In this 2 - 2.5 hour team building circus workshop, we show your employees the ropes, finished off with a friendly competition.
"I asked our team what they took from the juggling workshop. The answers were: Working closely as a team produces results, remember to break down tasks into manageable chunks, ask for support, and work together."
KCCC Kensington